Nordiko systems offer both RF and DC capability in either magnetron or diode operating modes. The sputtering electrodes can be readily converted between modes by simply adding or removing the magnetic elements.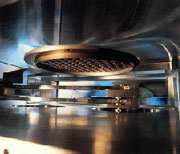 ---
When RF is specified, each sputtering electrode is provided with an independent RF auto-matching network. These networks are designed to insure stability through precise auto-tuning over the full range of operating conditions. A combined RF/DC electrode offers switching between either type of power supply for optimum process flexibility. All RF and DC power supplies are solid-state with digital control capabilities.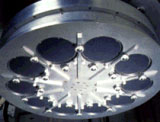 Nordiko offers a work table consisting of both heating and cooling circuit elements, to alternatively allow either substrate cooling or heating, exploiting the virtues of each. This feature exemplifies the unprecedented process flexibility inherent in Nordiko sputtering machines.
---